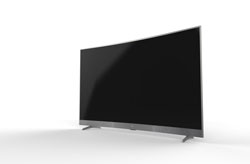 Total Technology™ audio enhancement gives consumers sound bar-quality audio from built-in TV speakers
Las Vegas, NV, – dbx-tv® today announced a partnership with TCL, the world's third largest TV manufacturer and America's fastest-growing TV brand. TCL will include dbx-tv's award-winning Total Technology™ audio enhancement suite with their new P3 series of TVs, scheduled for global release in early 2017. The Total Technology audio suite, used by more than 80 brands in over 50 countries, adds audio clarity and definition that matches the detailed picture quality of today's 4K television sets.
TCL's P3 series will include three key audio technologies from dbx-tv:
Total Sonics™ – allows built-in speakers to generate crisp, detailed sound with deeper bass and decreased distortion, resulting in audio quality that matches today's advanced displays.
Total Surround™ – delivers immersive surround sound through the existing TV speakers – enveloping listeners in vibrant audio.
Total Volume™ – tames loudness spikes and intensifies quiet dialog, creating a consistent and enjoyable listening experience.
"Our P3 TV series carries the most advanced ecological HDR technology in the industry, the TCL eco HDR, which provides our customers with the highest HDR standard picture quality," said Chen Zhen Yuan, General Manager of TCL. "That means the picture has higher brightness dynamic range, a wider color field, and crispier pictorial details. We searched for an audio enhancement solution that would match our radiant picture, and found dbx-tv to deliver what we were looking for."
"Today's TV sets offer the consumer better video than ever before, while our technology helps built-in speakers keep pace with the displays," said Les Tyler, President of THAT Corporation (dbx-tv's parent). "We're excited to partner with TCL – a global leader and innovator in this market. Through 35 research centers around the world, TCL has made a major commitment to display and audio innovation. We're honored that TCL chose dbx-tv to deliver the high standard of audio quality that TCL's customers expect from their TVs for the most captivating experience possible at a reasonable price."
dbx-tv's Total Technology audio processing is customized to suit each specific TV model's speakers, amplifiers, and cabinet. This results in an acoustic performance that complements the display performance of the most advanced televisions. TVs with integrated Total Technology enhancement sound as if they are equipped with much bigger, more powerful speakers than consumers would expect to find built in to today's ultra-thin TVs.
For the most current pricing and availability information, please visit: www.tclusa.com
About TCL
Headquartered in China, TCL Multimedia Technology Holdings Limited (HKSE stock code: 01070) is one of the leading players in the global TV industry, engaged in the research and development, manufacturing and distribution of consumer electronic products. Through a new product-and-user-oriented business model that focuses primarily on a "double +" strategy which includes "intelligence + internet" and "products + services" as the main direction, it strives to build a comprehensive ecosystem for smart TVs that provides users with an exquisite experience with its smart products and services. The Group ranked No.3 in the global LCD TV market with a market share of 6.0% in the first half of 2016 according to the latest IHS Technology figures, and ranked No.3 in the PRC LCD TV market with a market share of 15.0% in the first half of 2016 according to CMM's report. For more information, please visit its website: http://multimedia.tcl.com.
About dbx-tv
dbx-tv's DSP audio enhancement solutions extract the best possible sound from TVs and other consumer devices, even those with the tightest of design constraints. Originating in the 1980s, dbx-tv first developed the Emmy®-award winning BTSC noise-reduction system that became part of the North and South American analog-TV audio standard. dbx-tv's latest DSP offering – known as Total Technology 2 – is enabling the best possible sound from TVs and powered speakers worldwide. dbx-tv is headquartered outside Boston, with representation in Shanghai, Tokyo, and Seoul. For more information, visit www.dbx-tv.com and follow @dbxtv on Twitter.
Total Technology, Total Technology 2, Total Sonics, Total Volume, and Total Surround are trademarks of THAT Corporation. dbx-tv, THAT Corporation, and TCL are registered trademarks.