Custom Sound Modes and Enhanced Audio Performance Provide TV Manufactures Greater Design Flexibility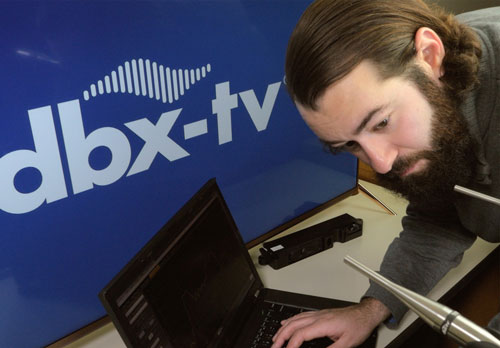 dbx-tv® today introduced Total Technology 2 – a more powerful and customizable version of its original award-winning audio enhancement software. The improved digital signal processing code will allow TV manufacturers the ability to create an unlimited number of sound modes for watching movies, sports, news, gaming, or listening to music. The previous version of Total Technology has been incorporated in global best-selling brands such as Hisense, TCL, Sharp, Haier, and Baofeng.
"After years of listening to our Total Technology licensees, this release combines many asked-for features that make the software better for TV set makers and their customers," said Les Tyler, President of THAT Corporation (dbx-tv's parent). "We've upgraded our algorithms in Total Technology 2 to provide significantly better sonic quality by further improving bass performance and vocal clarity, enhancing the surround sound experience, and ensuring even tighter control over loudness changes."
Total Technology 2 lets TV manufacturers implement more sophisticated control over their TV's audio system, allowing the viewer to further tailor their experience to fit their unique environment and needs.
dbx-tv's Total Technology 2 audio processing is customized to suit each specific TV model's speakers, amplifiers, and cabinet. This results in an acoustic performance that complements the display performance of the most advanced televisions. Total Technology 2 enhancement makes TVs sound as if they are equipped with much bigger, more powerful speakers than consumers would expect to find built in to today's ultra-thin TVs.
About dbx-tv
dbx-tv's DSP audio enhancement solutions extract the best possible sound from TVs and other consumer devices, even those with the tightest of design constraints. Originating in the 1980s, dbx-tv first developed the Emmy®-award winning BTSC noise-reduction system that became part of the North and South American analog-TV audio standard. dbx-tv's latest DSP offering – known as Total Technology 2 – is enabling the best possible sound from TVs and powered speakers worldwide. dbx-tv is headquartered outside Boston, with representation in Shanghai, Tokyo, and Seoul. For more information, visit www.dbx-tv.com and follow @dbxtv on Twitter.