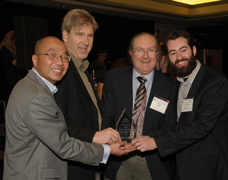 Total Cal audio measurement and calibration tool optimizes sound quality from TVs
Milford, MA – dbx-tv, developers of the Total Sonics™ audio software suite and the Total Cal™ measurement and calibration tool that enable the highest-quality sound from TVs, received the IMS Research TV Innovation Award in the Audio Experience category at 2012 International CES. The award specifically recognizes dbx-tv's new Total Cal audio measurement and calibration tool, which made its debut at the show.
Total Cal is a PC-based acoustic measurement and configuration system that simplifies and shortens the time required to configure a TV's audio system. Total Cal automatically assesses the TV hardware's audio capabilities and then adjusts its audio performance utilizing Total Sonics' myriad parameters to suit the setmaker's audio objectives. Using a proprietary genetic tuning algorithm, Total Cal achieves remarkable results that can be auditioned in just minutes. A trained audio engineer is not needed to achieve market-pleasing results.
Now in its third year and administered by IMS Research 2012, the TV Innovation Awards are one of the premier endorsements of innovation in television and recognize the most forward-thinking companies creating products and services that are changing the way people watch television.
"Receiving a TV Innovation Award from IMS Research is a true honor," said Les Tyler, President of THAT Corporation. "We are committed to delivering high-quality sound to complement today's brilliant flat-panel TV pictures, and this award validates the quality and innovation of our advanced audio software enhancement solutions. It also brings recognition to the importance of high-quality TV audio and the fact that manufacturers now have a means to affordably and quickly calibrate any TV to deliver the best possible sonic experience from existing built-in speakers."
About dbx-tv
dbx-tv's audio software enhancement solutions extract high-quality sound from TVs and other consumer devices, even those with the tightest of design constraints. Invented in the 1980s, dbx-tv originated as the Emmy®-award winning BTSC noise-reduction system that is now part of the North American analog-TV audio standard. Today, dbx-tv's signature suite of TV audio intellectual property (IP) has enabled better audio in more than a billion TVs, set-tops and other devices worldwide. dbx-tv is headquartered just outside Boston, with offices in Silicon Valley, Shanghai, Tokyo and Seoul.
"Total Sonics" and "Total Cal" are trademarks of THAT Corporation. dbx-tv and THAT Corporation are registered trademarks.