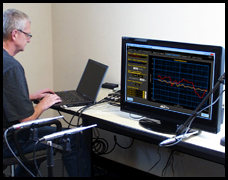 Empowers manufacturers to quickly, automatically obtain rich, consistent TV sound across all TV models.
CES, Las Vegas, NV – dbx-tv today announced Total Cal, an audio measurement and calibration tool that custom-optimizes sound quality from TVs, regardless of speaker size or price point. Total Cal, paired with dbx-tv's Total Sonics audio software suite, enables TV manufacturers to quickly and easily coax richer bass, crisper highs, and immersive 3D sound from their entire TV product line. Total Cal automatically tunes Total Sonics' parameters to achieve the best possible sound for each specific TV model.
Total Cal is a PC-based acoustic measurement and configuration system that simplifies and shortens the time required to configure a TV's audio system. Total Cal automatically assesses the TV hardware's audio capabilities and then adjusts its audio performance utilizing Total Sonics' myriad parameters to suit the setmaker's audio objectives. Using a proprietary genetic tuning algorithm, Total Cal achieves remarkable results that can be auditioned in just minutes. A trained audio engineer is not needed to achieve market-pleasing results.
 "TV setmakers are increasingly challenged to respond to severe cost pressures and to maximize development effectiveness. Audio solutions that allow them to introduce products faster are sure to be welcomed, especially by the growing contract manufacturers of televisions," said Paul Gray, Director of European TV Research for NPD DisplaySearch.
Total Sonics combines multiple intelligent and innovative digital signal processing (DSP) based audio-enhancement technologies. Its advanced algorithms address many of today's audio quality challenges that result from increasingly thinner and sleeker flat-panel TV designs. Tuned with Total Cal, Total Sonics can help overcome the limitations resulting from cost and cosmetic constraints on speaker size and placement. Efficient enough to run in TV SoC ICs and many digital amplifier ICs, Total Sonics is an easy-to-configure software solution that requires no additional hardware. Key features include dynamic equalization that generates maximum bass, 3D sound that broadens and deepens acoustic images from two-speaker systems, and dynamic range control that enhances TVs with limited dynamic range.
"Consumers are demanding — and deserve — high quality sound to complement today's brilliant flat-panel pictures, and they want that sound from the audio system built into the set," said Les Tyler, President of THAT Corporation (dbx-tv's parent company). "By optimizing audio quality and generating the maximum bass possible, Total Cal enables manufacturers to affordably and quickly calibrate any TV to deliver the best possible sonic experience from its own built-in speakers."
About dbx-tv®
dbx-tv's audio software enhancement solutions extract high-quality sound from TVs and other consumer devices, even those with the tightest of design constraints. Invented in the 1980s, dbx-tv originated as the Emmy®-award winning BTSC noise-reduction system that is now part of the North American analog-TV audio standard. Today, dbx-tv's signature suite of TV audio intellectual property (IP) has enabled better audio in more than a billion TVs, set-tops and other devices worldwide. dbx-tv is headquartered just outside Boston, with offices in Silicon Valley, Shanghai, Tokyo and Seoul.
"Total Sonics" and "Total Cal" are trademarks of THAT Corporation. dbx-tv and THAT Corporation are registered trademarks.